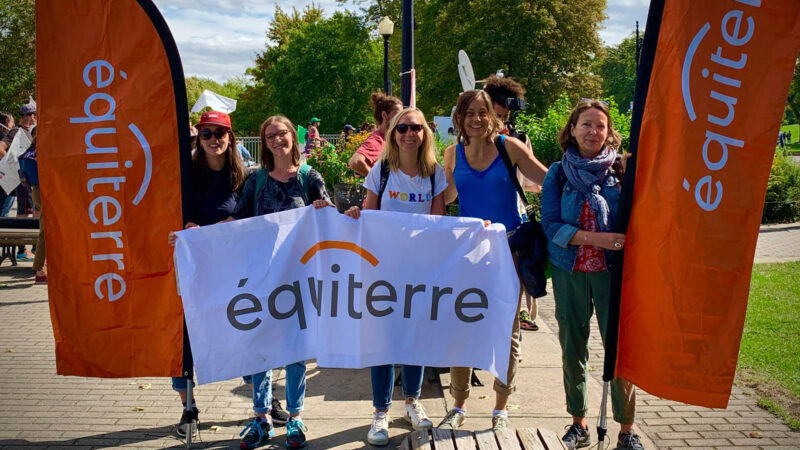 Ways to donate
By donating to Équiterre you are contributing to the transition towards a more equitable and environmentally responsible world.
When you give to Équiterre, you also enjoy the benefits of a one-year membership and ensure that your voice is heard loud and clear in decisions and policies that affect the environment in Quebec and in Canada.
With the help of your support, we are able to bring to the forefront of the debate:
The climate emergency: Disasters are happening more and more frequently and the window for action is getting shorter!
Government inaction: Governments need to do more!
Your rights to a healthy planet: They are legitimate and there is still time to act.
Gifts of any amount help us ensure our independence and increase our freedom to act.
Monthly, annual or one-time donation
Most of our donors prefer to give monthly or annually, and this makes all the difference in Équiterre's work. It provides us with the financial stability needed for our long-term campaigns and allows us to react and engage more effectively in current debates.

Donate a car
A doubly significant way to help the environment by supporting Équiterre and reducing your environmental footprint. You can swap your car for a more sustainable type of transportation (public transit, bicycle, carpooling, etc.)
Donate Bonusdollars
Eligible Desjardins Visa cardholders are now able to transfer a portion of their Bonusdollars to Équiterre. Contact Desjardins Visa now at 1-888-552-6643 to donate to Équiterre using Bonusdollars.

Donate as a gift
To celebrate a birthday, anniversary or some other joyous event, make a gift in the name of someone you love, using our specially designed form. Équiterre will provide you with an e-card that you can send to your loved one.
Organize a fundraising activity
You can raise funds for Équiterre by mobilizing your network to support the environment. By rallying their support, you'll be helping to expand the community of eco-citizens and to strengthen our work toward a sustainable world.
For information on how to hold a fundraising activity, contact Karim Chaieb, Assistant Director, Philanthropic Development, at kchaieb@equiterre.org.
Gifts to honour a loved one
You can make a commemorative gift to honour the memory of someone who has passed away and to support a cause that was important to them. Équiterre can then notify the family, according to your instructions.

Planned giving
Planning a donation is a way to ensure that the values you hold dear are passed on to future generations. 
Donate a life insurance policy;
Donate through your will, etc.
For information on planned giving, please contact Karim Chaieb, Assistant Director, Philanthropic Development, at kchaieb@equiterre.org.
Donation by mail
To make a donation by mail, please download, print and complete this form and send it to us at 50 Sainte-Catherine Street W, Suite 340, Montreal, QC, H2X 3V4.

Frequently asked questions
Why give to Équiterre?

By supporting our awareness, education and mobilization work, you are contributing to one of the strongest environmental voices in Quebec and Canada.

The bulk of our funding comes from individual donors. By becoming a member, you help amplify our impact and give us flexibility in our work.

What are the benefits of being a member?

As a member, you will be able to attend and vote at Équiterre's Annual General Meeting. You will receive our monthly newsletter with the latest news on environmental issues and our projects. 

You will receive an annual tax receipt for any contribution of $25 or more.

How is my donation used?

Each donation directly strengthens our mission. By supporting our education, awareness and mobilization projects, you're helping to create solutions on the ground, to reshape social norms and to accelerate the transition to a more environmentally responsible future.

Is it better for your organization to receive a single annual donation or various one-time donations totalling the same amount?

Monthly donations allow us to continue our projects by ensuring that they receive regular funding throughout the year.

Why do you solicit donations door-to-door or by phone?

Équiterre conducts door-to-door and telephone (telemarketing) solicitation campaigns. These campaigns are part of our strategy for recruiting new members and are one of the best ways to expand our community of eco-citizens. In addition, telemarketing allows us to discuss our current projects with our members.
Thank you for your support!