From November 1 to 12, the world will gather in Glasgow, Scotland for COP26. Équiterre's climate and mobility analysts, Émile Boisseau-Bouvier and Andréanne Brazeau, will be on-site to report back on the developments to Quebec and Canadian journalists and to Équiterre supporters.
They will also be collaborating with other attendees to address the limitations of the conference: this COP will be one of the least equitable and least safe conferences in recent years because of the current health situation.
WHAT IS COP?

COP is short for "Conference of the Parties" to the United Nations Framework Convention on Climate Change (UNFCCC), a framework for action to combat global warming that brings together virtually every country in the world.
Since 1995, representatives of the Parties that have ratified the convention have gathered each year at COP to negotiate and adopt decisions and monitor their implementation. The COP also brings together many non-state actors: local and regional governments, civil society groups, Indigenous groups, scientists, trade unions, businesses, youth, etc., who come to make their voices heard.
CONTEXT OF COP26

Following on the heels of another summer of extreme weather events, an alarming report by the Intergovernmental Panel on Climate Change (IPCC) and a warning from the International Energy Agency, COP26 is critically important with regards to raising climate ambition among Parties and committing to radical action to combat the crisis in a more concerted way.
COP26 is the most important diplomatic climate-related event since COP21 (held in Paris in 2015) because it will herald in the implementation of the Paris Agreement and because governments are expected to present improved national climate targets.
However, because of the current global health situation and the lower vaccination rates in developing countries, COP26 is unfortunately shaping up to be especially inequitable and less safe than it would normally be. It is disappointing and shocking to see that the logistics of the conference will not allow maximum safe participation for some of the countries that will be - and already are - among the most affected by the climate crisis.
ÉQUITERRE'S PRIORITIES AT COP26

Équiterre will be closely monitoring progress on the major objectives of COP26. Below are some that are of particular interest to us:
1) It is absolutely critical that countries raise their climate ambition, both in terms of targets and action plans, in order to keep in line with climate science and limit warming to 1.5 degrees Celsius. This increased level of ambition is one of the core mechanisms of the Paris Agreement.
2) Many countries, including Canada, need to do better on the commitment of $100 billion a year in climate finance, which was made during the Copenhagen negotiations in 2009. This funding is intended to support developing countries' climate change mitigation and adaptation efforts, since historically, developed countries have a greater responsibility for the current climate crisis.
3) One of the key objectives of COP26 remains the implementation of Article 6 of the Paris Agreement, which provides for greenhouse gas emissions trading systems among countries. Countries are currently in agreement on the principle, but not on its implementation.
4) The science is clear, and states no longer have a choice if the most severe effects of irreversible climate change are to be avoided: they are required to implement a timed and costed plan for a rapid phase-out of fossil fuels that ensures a just transition for the workers and communities involved.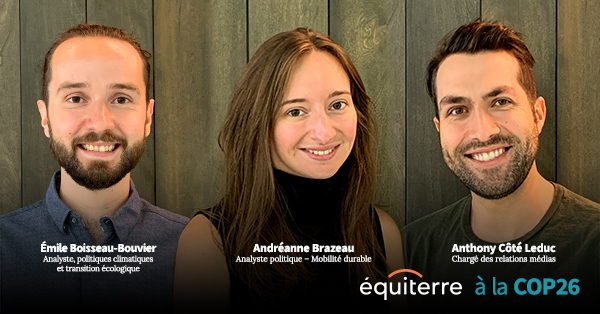 ÉQUITERRE'S DEMANDS TO THE CANADIAN AND QUEBEC GOVERNMENTS
Équiterre has more specific expectations of the Canadian and Quebec governments while at COP26, on transportation, agriculture and the energy transition."Transportation is one of the most GHG-emitting sectors in Canada and in Quebec. If we don't act decisively on this front, we will negate all our efforts elsewhere. So we will be watching to see what happens in this area at COP," explains Andréanne Brazeau.
"What's more critically important than our ability to feed ourselves? Even if agriculture is not directly addressed in the international climate negotiations, Équiterre will be closely following the work being done on the issue, as it is directly linked to climate conditions. We need to provide resources and support to our farmers to allow them to increase their resilience and their ability to adapt to their new reality in a changing climate,"
OUR DEMANDS TO CANADA IN THE CONTEXT OF COP26
1. Energy Transition
That the government fulfill its campaign promise to end fossil fuel subsidies by 2023;
Increased federal government climate ambition (and clarification on its plan to cap and reduce emissions from the oil and gas sector).
2. Agriculture
That Canada implement a country-wide soil health strategy to prevent soil degradation, improve soil health and thereby help farmers become more resilient to climate change.
3. Transportation
That the government follow through on the commitment it made during the election to implement a Canada-wide Zero Emission Vehicle (ZEV) standard as well as announce its interim ZEV sales target for 2030.


OUR DEMANDS TO QUEBEC IN THE CONTEXT OF COP26
1. Energy transition
Announce that hydrocarbon exploration and production in Quebec will end without financial compensation to companies and that Quebec will join the Beyond Oil and Gas Alliance to take leadership on the issue.
2. Agriculture
That Quebec adopt targets to reduce GHG emissions from the agricultural sector;
That Quebec ensure that the implementation of the Plan d'Agriculture Durable (PAD) contributes to increased resilience for Quebec agriculture in a changing climate.
3. Transportation
That Quebec announce its strategy for the decarbonization of heavy transportation, including its commitment to the VZE standard;
That Quebec cancel the proposed 3e lien between Lévis and Quebec City, since the project is incompatible with the province's climate ambitions.
HOW TO FOLLOW THE COP WITH ÉQUITERRE

Follow Équiterre's social networks (Facebook, Twitter and Instagram) for the latest news and our interpretation of COP26.
Équiterre has been participating in the United Nations Climate Change Conferences for more than two decades - the only Quebec civil society organization involved in the international climate negotiation process since the 1995 Conference in Berlin. Our ongoing presence at these conferences, which bring together decision-makers from around the world, and at many of the specialized working group sessions, has contributed to Quebec's reputation as a North American leader on climate issues.



TO GO FURTHER
Radio and TV interviews