Reducing consumption is an inevitable element of addressing the climate crisis and working towards a just ecological transition. It's time to rethink our economic system to make it work for the common good.
Read this guide to:
Discover individual and collective measures that can be implemented to help move away from overconsumption and towards deconsumption
Learn how to reduce your consumption at your own pace
Reducing consumption: a journey
Far from being a question of depriving oneself, deconsumption is a journey where material abundance gives way to a lifestyle that can be even more meaningful. Deconsumption has a host of benefits, both for our wallets and for human and environmental health.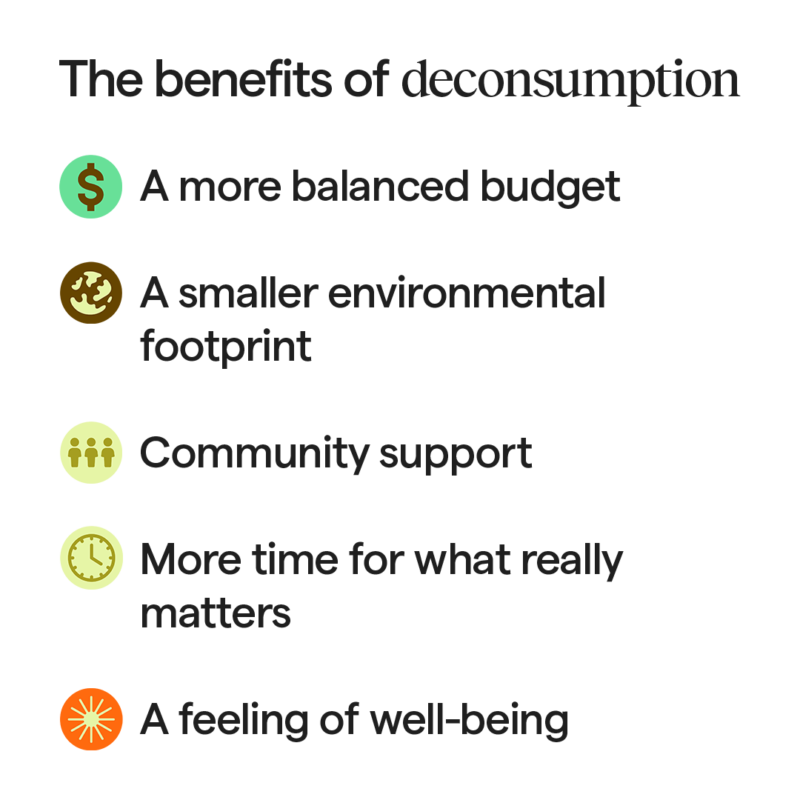 But first of all, what is deconsumption? Deconsumption is consuming fewer material goods. It's questioning our needs and letting go of anything that is not essential. Have a look at our fact sheet to better understand how our economic system is based on overconsumption and how reducing consumption can be a solution to our socio-environmental challenges.
Overconsumption, and even consumption, is a privilege available only to certain segments of society. Some individuals overconsume while others are unable to cover even their basic needs. We can't ask those who don't have the means to consume to deconsume. The actions suggested in this guide are for those who consume beyond their basic needs.
💰🌎 Did you know?
Our carbon footprint is closely linked to our income. Between 1990 and 2015, the wealthiest 10% of the world's population was responsible for more than half of the carbon emitted into the atmosphere.
How can we move from overconsumption to deconsumption when everything around us is pushing us to buy? We don't need to feel guilty every time we buy something. Deconsumption is a process and everyone is at a different place. Chances are that you're already making some effort to reduce your consumption, whether it's to save money or because you want to be more environmentally friendly. There are lots of resources and inspirational initiatives available to help!
In this guide, Équiterre provides a number of ideas to help you set out on or to continue on your path toward deconsumption, and also to enable you to participate in a more systemic change. While we know that individual actions are no longer enough to halt the harmful consequences of overconsumption, they are an important step toward collective change, in addition to helping to fight eco-anxiety. In short, individual action strengthens collective action.
Good deconsumption habits
Are you familiar with the 4Rs? This is an acronym representing the following concepts: Reduce at the source, Reuse, Recycle and Recover. It a reminder to help us prioritize our actions to better manage our waste. At Équiterre, we've adopted another version that reflects the need to reduce our consumption: Refuse-Optimize-Share.
Refuse
The number one rule for becoming an ace at deconsumption is to focus on the first R - REFUSE! We must learn to refuse to buy or to receive goods that we don't really need. Reducing at the source is an individual action that has a huge impact. The least polluting item is the one that we don't buy!
Before acquiring anything new, you must ask yourself the most important question: Do I really need it?

Read our factsheet and learn more about the impacts of overconsumption
Discover
Here are a few tips on how to avoid impulse buys:
Avoid window shopping

It's best to avoid window shopping. Shopping centres and stores are designed to encourage consumption.
Resist the tempting discounts

And tempting discounts? Well, they're only a bargain if we really need the item. To better resist the temptation of a so-called deal, it's better to stay away from flyers and unsubscribe from newsletters. These actions will also help reduce our digital footprint and will save us money!
Optimize
Be innovative and use what you already have on hand! Let's learn how to better maintain, repair, patch and restore our things. In addition to getting more for your money, learning how to make the most of what you already have allows you to significant reduce your environmental impact and, who knows, maybe even find a new hobby?

Maintain: The most environmentally friendly item is the one that is already made. To make things last as long as possible, learn how to carefully use and maintain them. Information on use, maintenance, and even warranties is often available in the instruction manual. Let's get out the reading glasses!
Reuse: We can sometimes find a new use for items that would otherwise end up in the garbage.

Giving a 2nd (or 3rd!) life to an item can be as simple as turning outgrown clothes into cleaning rags, for example.
Thinking about a renovation project? Éco-réno promotes the reuse of items such as doors, light fixtures, and handles. A great way to reduce the ecological footprint of construction waste and save money.
Repair: Extending the life of an item by repairing it is an important action in the fight against the overexploitation of raw materials and the waste crisis.

Think you can fix it yourself? Check out the Touski s'répare group on Facebook: a community for sharing tips and tricks to encourage the repair of all kinds items.
Can't seem to fix it yourself? Learn from repair experts by attending workshops and repair cafés! There are repair workshops for small appliances, electronics, clothing and even bikes! Simply search online to find a repair workshop near you.
You'd prefer to go straight to the experts? Check out Protégez-vous' interactive map of repair experts.
Your efforts to find repair solutions contribute to a systemic change
Rest assured that while you're getting your items repaired, a systemic transformation is also under way. In 2022, Équiterre published the very first Canada-wide study on access to repair.
We're working with other groups to push for the solutions identified in the study and we're pressuring our governments to change laws to ensure our right to repair. Add your voice to ours by signing our petition!
Share
We accumulate many items that we use infrequently or only on certain occasions. We could either make them available to others when we are not using them or we could simply rethink our purchase in the first place. Would we be able to rent or borrow the item in question? There is a variety of initiatives available to us, and more and more are being added all the time.
Here's some inspiration :)
A tool, a kitchen gadget, sporting equipment – could you borrow it from a neighbour or a friend?
Take advantage of shared community resources. It's now possible to not only borrow books, but also toys, sports equipment and tools. For example, residents of Notre-Dame-des-Prairies can borrow outdoor recreational equipment at no charge and Québec City residents can rent tools from a tool library. To find out about initiatives in your own community, just have a look online!
You can also join a social media sharing or exchange group such as La communauté de As-tu ça toi? which is active in various parts of Quebec, or subscribe to the digital platform Partage Club.
Inspiration from the citizens of Rosemont-La Petite-Patrie and Ahuntsic-Cartierville in Montréal: They got together to set up socio-ecological transition projects, such as car-sharing, thanks to the support of an organization called Solon.
Inspiration from the residents of Bonaventure, who created a multi-use community space self-managed by Horizons Gaspésiens. It serves as a collaborium (co-work space), a feminist, trans, queer and inclusive library or the Loco Local repair workshop.
🤝 Over to you!
Have you not found a sharing initiatives near where you live? Why not talk to your neighbours to get one started!
In addition to reducing our consumption, these alternatives provide opportunities to get to know the people in our neighbourhood. Reconnecting with our neighbours by helping each other and sharing our goods, services, or expertise is beneficial in every way! It builds a stronger, more resilient community, one in which mutual support is encouraged.
When you absolutely have to buy something
If all the alternatives have been explored and a purchase is deemed necessary, it's important to ensure your purchase is sustainable and durable.
Whenever possible, it's best to take the time to consider all your options. The key to making the best purchase is being fully informed.
First, we need to ask ourselves which features are necessary and which features to prioritize.
To make an informed choice, you can check out the resources provided by Protégez-vous, a non-profit organization whose objective is to save consumers time and money.
Here are a few more questions to ask yourself before buying:

Is it durable?
Can it be repaired easily?
What's the warranty? Are any services included?
What are the payment terms?
Be aware of the advertising traps

Enticing offers may turn out to be less advantageous than expected.
Free budget counselling service

Option consommateurs, a non-profit association whose mission is to help consumers and defend their rights, provides a free budget counselling service.
When you are finally ready to buy something new:
Consider second-hand: Second-hand is a great option for saving money and reducing your environmental footprint. There are many options available, whether in stores, on online resale sites, or by finding treasures left on the curb. That said, this option should only be for items that we need, otherwise we fall back into the trap of overconsumption!
Opt for durability: If possible, invest a little more money for the more durable option that will last you longer. In the long run, your wallet will thank you, and at the same time you'll reduce the amount of waste sent to the landfill.
Go for refurbished: In the case of electronics, refurbished is often a great option.
Focus on experiences rather than on material possessions: Looking for something to spoil yourself or a loved one with? Give the most precious commodity of all: time!
Learn how to better shop online: Have a look at Vivre en ville's Réduire notre empreinte to discover ways to reduce the impact of our online purchases. Express delivery services are almost three times more polluting than standard delivery. Express delivery inhibits route optimization by sending less-than-full truckloads onto the highways.
It's always better to opt for quality over quantity and to support the social or circular economy!
This guide is only a start, but we hope that these tips will help you on your journey towards deconsumption!
Let's continue to work together so that our individual actions can be transformed into true societal change. To make this change happen, we must not only question our consumption habits, but also question our economic system, while encouraging collective initiatives that focus on our well-being.