From 40 to 70 varieties of organic food are grown on Quebec's farms. In honor of these products, Équiterre coined the phrase "organic baskets" when the Family Farmers Network (RFF) was founded over 25 years ago.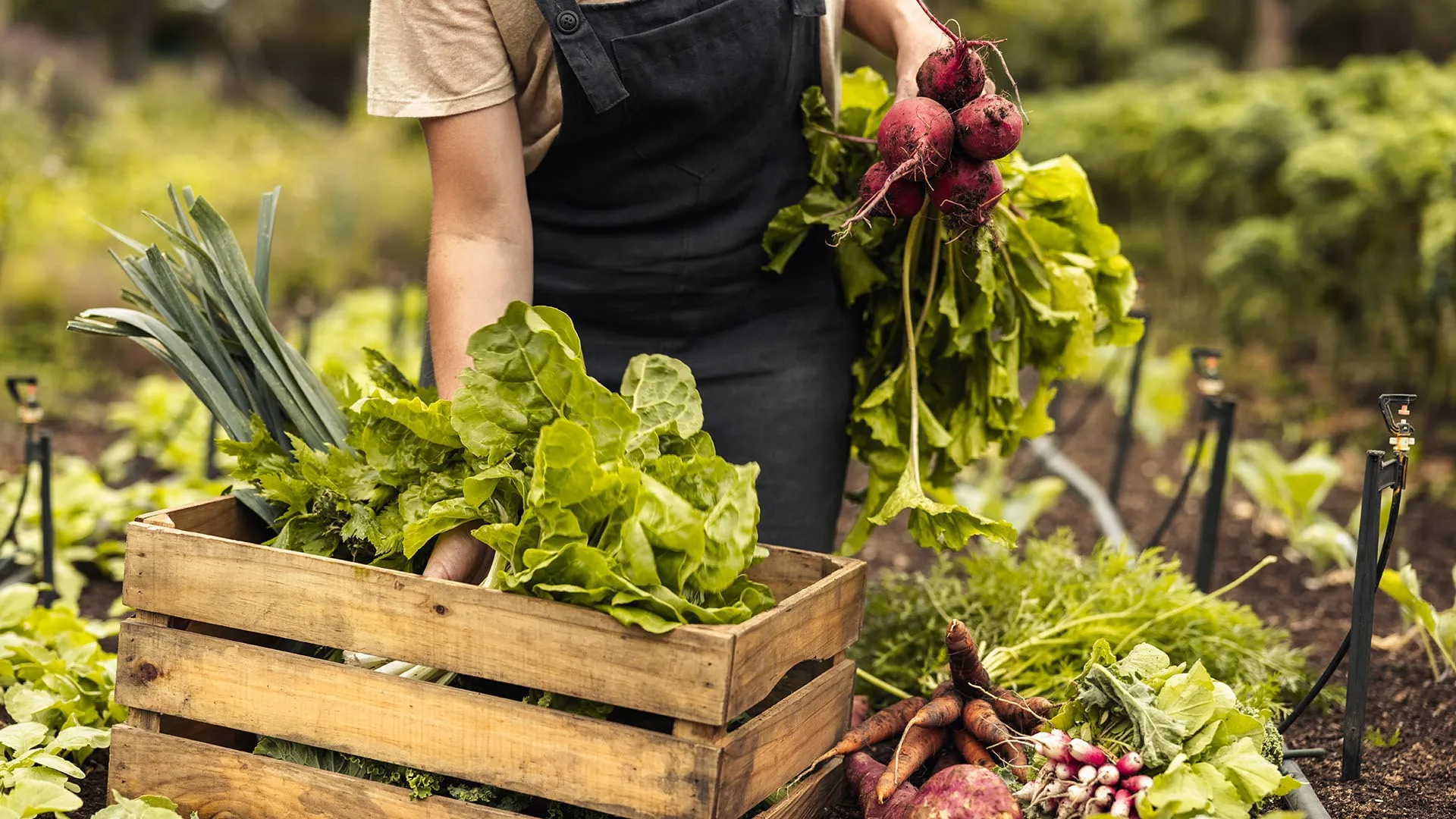 Containing fruits and vegetables, herbs and edible flowers that vary according to the hundred or so Quebec farms comprising the Network, the organic basket is certified 100% organic by Québec Vrai or Ecocert Canada and delivered on a same-day basis via a short supply chain. Each item in the organic basket sets itself apart from its conventional counterpart by production techniques that are more environmentally responsible and reflective of the farm's human health practices. For example, no synthetic pesticides or fertilizers are used, nor any genetically modified organisms. Last but not least, organic baskets are focused on the community and encourage our local farmers!
Organic baskets: for local residents
Thanks to the organic baskets delivered by the Family Farmers Network (RFF), which has come under the Coopérative pour l'Agriculture de Proximité Écologique (CAPÉ) since 2020, member farms feed more than 30,000 Quebec and New Brunswick families every year.

Did you know? 👨‍🌾
The Organic Basket is socially responsible because it encourages our local market gardeners!
Organic baskets: for institutions
Much like the organic basket that provides residents with healthy, local and eco-responsible food, Équiterre has also developed projects where the organic basket helps institutions like schools, daycare centres, colleges, universities, health care establishments and businesses diversify their food offerings.

Here are four of Équiterre's institutional projects that promote organic baskets in institutions:
Eating sustainably: spinoffs for the environment and the local economy
Over the years, the organic baskets project has given Équiterre something to think about when it comes to sustainable food in general:
Reduces the ingestion of bad pesticides and the consumption of fossil fuels

Organic agriculture not only eliminates the problem of synthetic pesticides on food, but also produces a 45% reduction in fossil fuel consumption on the farm when compared to conventional agriculture.
Reduces GHG

Local food procurement also drives down greenhouse gas emissions generated by food transportation. Buying local organic food helps stimulate the local economy.
Supports the farmers' wallet

Quebec farms have proven that intensive organic farming is possible and can be just as profitable as conventional farming. All this without the use of pesticides.
Reduction of waste at the source

Organic baskets also means "zero-waste" vegetables for the most part, and thus a reduction in packaging at the source. And where packaging is needed, it is often recovered by the farmer (elastics, boxes, etc.) or can be composted or recycled to minimize its impact.
A short circuit

Buying from local producers generates a steep decline (by 2,500 km, on average!) in the distances traveled by our food from farm to plate. It turns out that buying local organic produce helps drive down greenhouse gas (GHG) emissions significantly.
Your support is important to us
Équiterre's Food and Agriculture program offers a host of solutions to eat sustainably. From initiatives enabling institutions to transition to best practices in sustainable food, to campaigns to help farmers transition to farmland preservation practices, our impact is significant