Télécharger l'infographie
With the transportation sector responsible for nearly 43% of greenhouse gas (GHG) emissions in Quebec1, sustainable mobility has the potential to really change the game. Electrically assisted bikes (EAB) are an accessible and practical option for those who want to help reduce emissions… and their expenses.
Substantial savings
The price of an EAB varies greatly depending on the model, with a median price of about $3,000. By replacing a compact car with an EAB (for 8 months of the year) combined with public transit (4 months/year), a household could save $7,000 to $8,000 annually.
Other advantages:
The maintenance of an EAB is about $400/year.

Energy costs are less than $4/year.

Say goodbye to parking fees and car registration fees!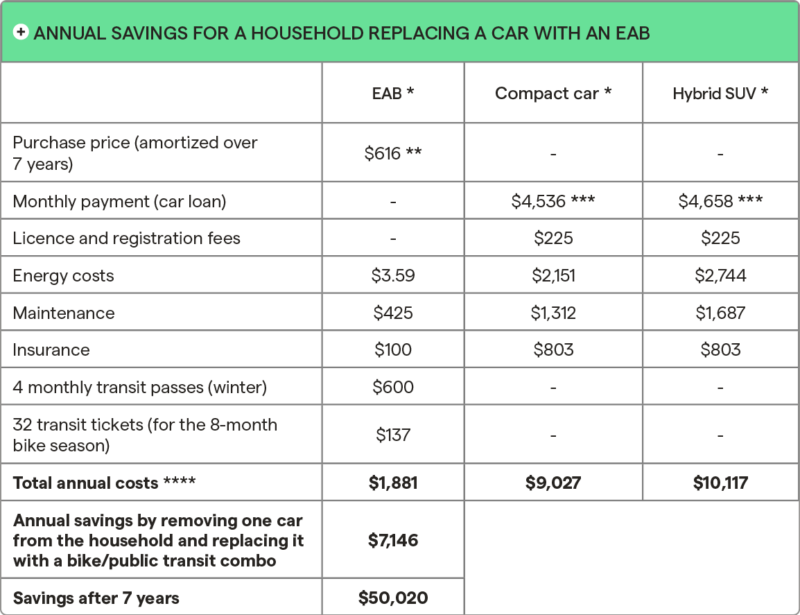 A quick and smooth ride
Biking is the fastest way to travel distances of less than 5 kilometers in urban areas during peak periods3. With its electric motor, an electric bike requires less effort against elements such as wind or hills, allowing you to arrive at your destination refreshed and ready to go. The electric assistance also allows you to carry weight such as groceries or other people without slowing down the pace or increasing the effort.
Positive for the environment and living spaces
Biking as a mode of transportation, whether electric or not, reduces air pollution. Even when considering the battery of an EAB, the environmental footprint is far less than that of a gas-powered car. An EAB emits 780 times less CO2 emissions than a gas-powered car and 25 times less emissions than an electric vehicle4.
Cycling promotes safer neighborhoods and more pleasant living environments, reducing car traffic and the need for increased concrete infrastructure for cars.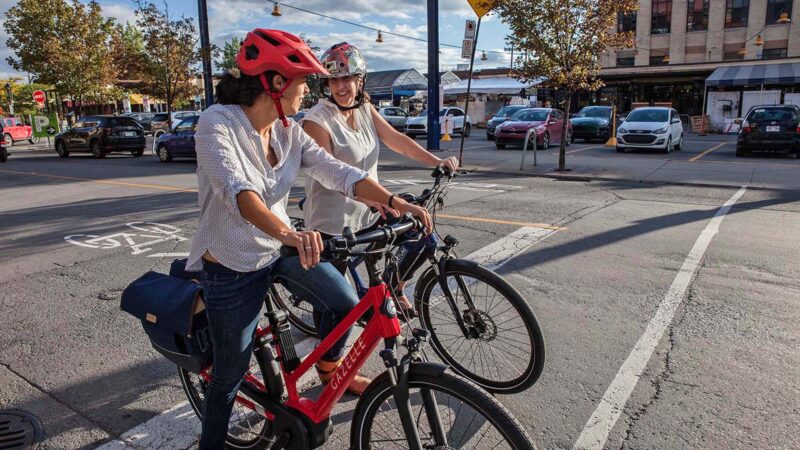 A healthy choice
The electric motor on an EAB facilitates pedaling, making it smoother when you pedal. You can even adjust the power of the electric assistance according to your abilities. EABs are an active mode of transportation, accessible to people of all ages and physical conditions. And because it takes less physical exertion than a regular bike, you can extend the distance you travel and increase the number of rides you take in a day.
The benefits of exercise on psychological health are well known: reducing stress, anxiety and the risk of depression with the secretion of endorphins5.
The Vélovolt campaign is raising awareness about this new mode of transportation as an alternative to solo driving
Learn more