Poor air quality from forest fire smoke and smog has greatly affected our daily lives this summer. Outings were canceled, hikes ruined and soccer games postponed (which, let's admit, is nothing compared to what communities that have been engulfed in flames have been enduring), but the health implications of smog are serious. For those suffering from health issues, there has been even more serious concern. It's normal to feel discouraged or powerless in the face of these extraordinary events, but together, there are things that we can do to help improve the quality of the air in our cities, both in winter and summer.

What is smog?
Smog is a yellowish urban fog resulting from high concentrations of fine particles (PM2.5) and ozone present in the atmosphere. During the summer, very hot, sunny days are especially conducive to smog formation, but fine particles are also present in the air in our cities all year round.

When the air quality is poor over 75% or more of the Greater Montreal area, it's considered a smog event. In 2022, there were 33 days when Montreal's air was classified as poor. On each of those days, the concentration of fine particles exceeded 35 micrograms per cubic meter (µg/m3) - a level that is 2.3 times higher than the limit set by the WHO.

This summer, forest fires are contributing significantly to the deterioration in air quality in many regions of Quebec, but in Montreal, most of the fine particles are coming from gas-powered vehicles and industrial processes.

Transportation is responsible for 40% to 50% of fine particle emissions on the Island of Montreal. The particles come primarily from vehicle exhausts, as well as from the friction of brakes and tires on road surfaces. So if we don't tackle the problems related to transportation, we will continue to experience smog.
Why should we be concerned?
In Quebec, 4,000 premature deaths are caused by air pollution every year (comparable to COVID, which caused 3,800 deaths in Quebec in 2021). 70% of these air pollution deaths are attributable to fine particles. In Montreal, it is estimated that air pollution will have caused 1,900 deaths in 2023 at a cost of US $3,100,000,000.

What makes fine particles particularly worrisome is their small size. It enables them to penetrate our airways and move into the most sensitive parts of our lungs, and even to pass into our bloodstream and reach other organs.

In the short term, they are likely to aggravate respiratory or cardiovascular diseases (such as asthma attacks, bronchitis and heart attacks), but over the longer term, they can lead to the onset of diseases such as cancer and degenerative disorders such as dementia.

For all these reasons, Santé Montréal recommends, for example, taking public transit during summer smog episodes. Reducing the number of gas-powered vehicles on the road not only reduces the number of smog days, but it also improves air quality year round.
🌫️💵 Air pollution also affects our finances
The costs of air pollution include both health-related costs (number of premature deaths) and the economic costs and losses associated with reduced life expectancies, premature births, illnesses leading to hospital visits and absence from work, as well as the financial burdens resulting from illnesses caused by exposure to polluted air. The costs associated with pollution are much higher than the costs of implementing solutions to reduce it.
How can we protect ourselves?
We can't take action directly to put out the forest fires, but we can limit the amount of fine-particle emissions that pollute our cities by changing our transportation habits. Episodes of acute smog, which we can see, feel, and talk about with those around us, are an important opportunity to try out new ways of doing things:

Reduce your travel or rethink the way you get around: To achieve this, our governments have a role to play. They have a duty to propose sustainable transport projects that respond to the need to get around differently. Let's all try to slow down and rediscover unexplored routes and living spaces around us.

Encourage our governments to take action against the proliferation of large gasoline-powered vehicles: For example, by speeding up the electrification of vehicles on our roads, notably through a ZEV standard, and by adequately tightening the rules on car advertising. You can sign our petition and take part in the discussion.

Replace your car with a bike or even an electrically assisted bike: Bike use helps to limit pollution, improve physical fitness and mental health, reduce traffic congestion and promote better use of public spaces to build healthier living environments that contribute to better quality of life.

Join a car sharing service: These services help reduce the number of private vehicles on the road by a factor of 10.2

Opt for a small car: Smaller cars not only reduce the volume of fine particles emitted, but also reduce GHG emissions.

Trade in your gas-powered car for an electric car: Switching to electric cars alone won't solve the climate crisis, but driving an electric vehicle can cut GHG emissions by up to 80% and reduce the amount of harmful fine particles in the air. It's a step in the right direction.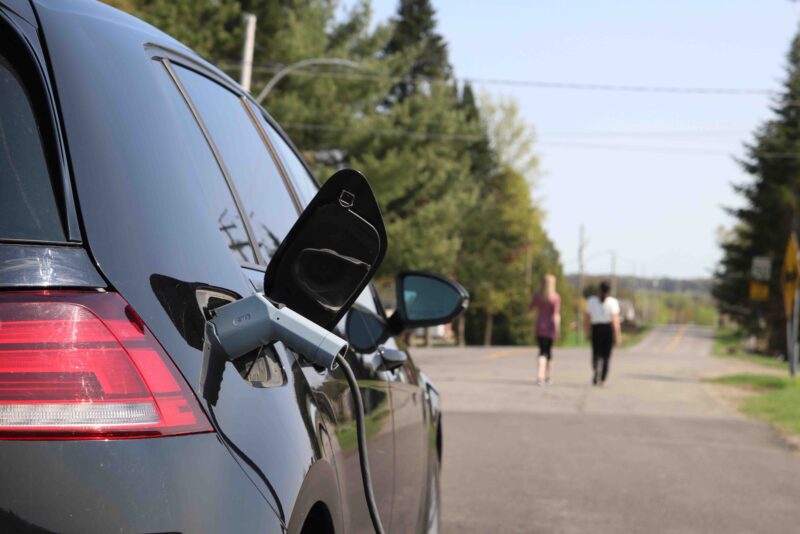 Key takeaways
Climate change is contributing to the risk of forest fires, which in turn degrade the quality of the air we breathe, impacting our daily activities and preventing us from enjoying our summers to the fullest.

Our transportation system and habits are also an important cause of poor air quality, year-round.
Using different forms of travel means moving better, for both our individual and our collective well-being. Let's give ourselves the means to breathe cleaner air, in our cities and everywhere!