Press room
Our press room is for journalists and other media professionals, featuring our latest press releases, profiles of our spokespeople and visual content to supplement your reporting and articles.
Media inquiries
For media inquiries, please contact our Media Relations manager.
Équiterre is active in a number of areas relating to the climate crisis and the environment. The organization also weighs in on key issues in which it holds expertise, including sustainable food and agriculture, energy, fossil fuels, reduction at source and sustainable mobility.
For general questions, contact us via info@equiterre.org
Press Releases
Check out our press releases. Our latest offerings and responses can be found below.
Spokespeople
Since joining Équiterre in 2008, Colleen has specialized in corporate social responsibility and responsible consumption. She held the key post of Director of Programs and Services before being named Executive Director in 2019. Multilingual, she has degrees in environmental management and journalism, and has worked for such media outlets as Global, CFCF Television and CBC.

Expertise and preferred topics:
Sustainable agricultural and food systems
Reduction at source and consumption
Waste management
Social, climate and environmental justice
After several years in key roles in federal and municipal politics and having led numerous election campaigns, Marc-André joined Équiterre in 2019 as Director of Government Relations. His approach, which focuses on rigor, dialogue and transparency, allows him to lead Équiterre's collective choices team in order to exert maximum influence on our governments and accelerate change.
Expertise and preferred topics:
Governance
Legislative and regulatory policy issues
Committed to the ecological transition since the beginning of her career, Andréanne Brazeau is a climate policy analyst at Équiterre, in addition to being a lecturer at the Université de Sherbrooke. Having joined Équiterre's government relations team in March 2020, Andréanne first worked as a public policy intern, a research assistant and then a policy analyst in mobility. She holds a Master's degree in Applied Political Studies, a D.E.S.S. in Environmental Management and a Bachelor's degree in International Studies.
Expertise and preferred topics:
Energy Sobriety
Social and climate justice / Just transition
International climate negotiations
Youth mobilization
Climate governance and public policies
Transport decarbonization
See profile
Close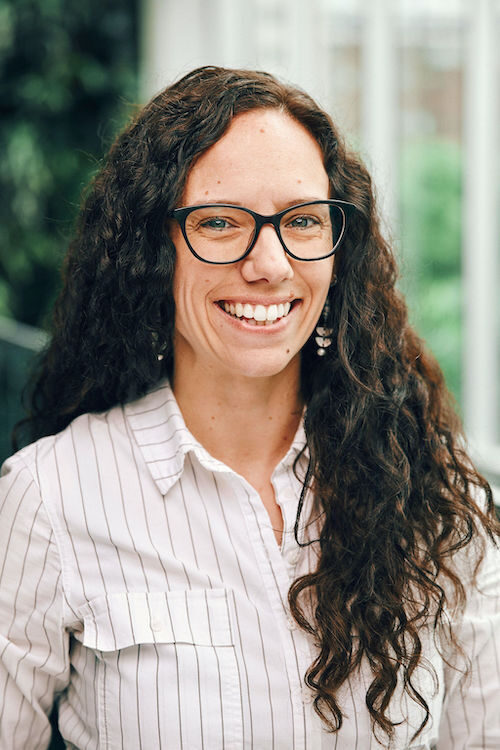 Carole-Anne Lapierre
From the age of 4, Carole-Anne was interested in the environment, in nature, and spent the next 14 years saying that she was going to be a veterinarian and a farmer. The little girl that she was had seen right, since agronomy is rather in the same line! With a double bachelor's degree in International Relations and International Law from UQAM and Agro-Environmental Sciences from McGill, she is a member of the Ordre des agronomes since 2012. It was during an internship with Québec Sans Frontières in Bolivia that she developed the desire to work in food security with communities, and it is by becoming an agronomist that she was able to realize this dream. However, her first contact with agriculture was at the age of 11, when she started horseback riding.
Her career path then led Carole-Anne to work in field crops, in ornamental horticulture (in R&D), to work on organic farms, before turning to urban agriculture in 2017. This specialization broadened her horizons to include social entrepreneurship, community development and a food system approach, a great complement to her agronomic training. It is with all these experiences and awareness that she wants to contribute to meeting the challenges facing agriculture and the food system in the context of the current climate, environmental, economic and social crises.
The achievement she is most proud of is having founded the Société d'agriculture urbaine de Longueuil and having had the courage to run for office during the 2021 municipal election campaign. But on a daily basis, she is the mother of Amélia and Lily-Maude, her two potential gardeners!
Her daily joys are dancing, a latte, walking in the forest, a good book, a deep discussion, and the laughter of people she loves!
As an internationalist and agronomist, Carole-Anne specialized in urban agriculture and food systems analysis during her career. The McGill University graduate joined Équiterre in 2022 and currently works as an Agriculture and Food Systems Analyst on our Government Relations team. A member of the Système alimentaire montréalais, she also contributes from time to time as a collaborator on the Radio-Canada program Feu Vert, hosted by Catherine Perrin.
Expertise and preferred topics:
Food autonomy and local procurement
Protection of agricultural land
Sustainable agriculture and food systems
Regenerative agriculture, biodiversity and climate change


Having studied applied ecology and completed a Master's degree in Environmental Sciences, Nadine has spent the past 25 years developing concrete solutions to enable citizens, organizations and public policy makers to help fashion a greener, more caring society. After joining Équiterre in 2003, she developed in-depth knowledge of agricultural issues and of the challenges of implementing socio-environmental practices. She is also an author and a yoga/meditation instructor.
Expertise and preferred topics:
Soil health
Regenerative agriculture
Cofounder of the Coopérative zéro déchet Incita, Amélie has worked in the waste management field for over 10 years. Active in associations as well as civic and environmental groups, she has developed a solid body of knowledge on reduction at source, management of recyclable and compostable materials, and the various related political and environmental issues. Amélie holds a Bachelor degree in Public Management with specialization in municipal administration and a Master's degree in Environmental Studies.
Expertise and preferred topics:
Right to repair
Waste management
A lawyer with a master's degree in environmental management on active transportation and biking, Anne-Catherine has been involved in the field of sustainable mobility both professionally and as a citizen for several years. She chairs the Board of the organization Vélo Québec. Recently, she piloted a major collective project in food safety, which enabled her to develop a cross-sectoral vision of transportation. She has a keen interest in inter and peri-urban mobility issues.

Expertise and preferred topics:
Land use and urban planning empowering sustainable mobility
Political, legislative and regulatory factors favoring active transportation
Transportation issues related to food systems