After six successful years, Équiterre's Schools Take Root fundraising project has taken flight. From now on, it will be run by the Family Farmers' Network and the local farmers who supply participating schools with their organic vegetable baskets. A beautiful story that continues without interruption since it's already possible for schools to register now.
A source of pride for Équiterre
"Équiterre is very proud that this project has been so popular among families, schools and farmers, and happy that Schools Take Root is being passed on to local producers, a logical and natural choice for its future," states Colleen Thorpe, Équiterre' Executive Director.
Schools Take Root is a great alternative to traditional fundraising campaigns. Through the sale of local organic vegetable baskets in schools and early childhood settings, it helps to create awareness about sustainable food among youth.
A huge impact over the past six years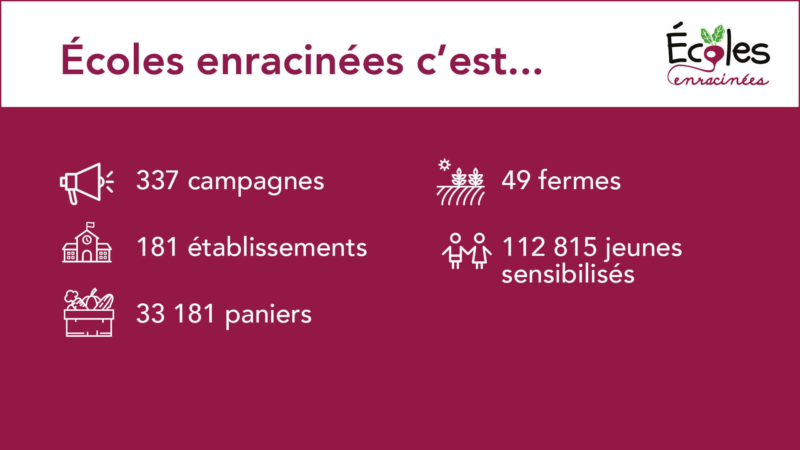 "It's the best possible fundraising campaign: green, healthy, zero waste, local (and even vegan for those who wish). Amazing!"
Fondation de l'école Saint-André Apôtre, a Schools Take Root participant since 2018

"We are proud to be a part of this visionary project that is more relevant today than ever." Ferme La Bourrasque, a Schools Take Root participant since 2017

The Family Farmers Network: A natural choice for the future
With a solid structure, a steadily increasing membership and ever growing consumer appetite, the Family Farmers Network is the ideal partner to take up the reins of Schools Take Root. In 2020, Équiterre entrusted it with our organic basket project after 24 years. Our great partnership with the Family Farmers Network is now being expanded with Schools Take Root.
Sustainable food at the heart of Équiterre's mission

Équiterre is grateful to all the families, schools and farms that have contributed to the success of Schools Take Root over the past few years. We will remain in close collaboration to ensure an efficient and smooth transition.
Équiterre is continuing its work to create awareness about the benefits of regenerative, organic and local agriculture. There are a number of projects on the go and some new ones coming, so stay tuned!

Register your school for Schools Take Root 2022!
Suscribe