Ongoing
Assess what your true needs are
An awareness campaign on the impacts of SUVs
Compare the impacts of two vehicles
Have you decided you really need a vehicle, being unable to get around via active transportation, public transport, carpooling or car sharing? Before choosing an SUV, compare different vehicles with this tool. It demonstrates the impact of each vehicle and can shine a light on the different possibilities available to you, based on your real needs.
Why take action?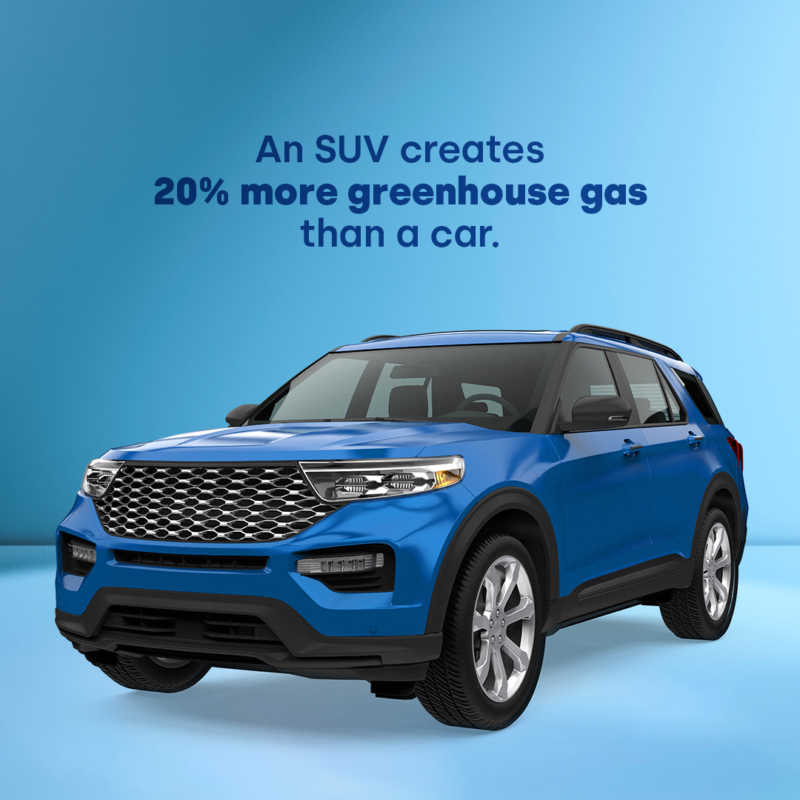 SUVs are responsible for 50% of the increase in GHGs in Quebec
An SUV produces on average 20% more GHGs than a car
An SUV costs $10,000 more initially than a car and $4,000 more each year
SUVs are twice as likely to be involved in collisions with pedestrians than cars
SUV collisions are 10% more frequent and 28% more deadly for other drivers
FAQ
Is it true that some SUVs don't use much more gas than a car?

On average, light-duty trucks, which include SUVs, burn 20% more fuel than cars and therefore emit more GHGs. There are a number of models that do consume less, but aside from the effects on the environment, SUVs have real impacts on the safety of other road users and on household debt levels.

Isn't the high number of SUVs on the road simply a response by the manufacturers to consumer demand?

We recently analyzed automobile advertising across the country and found that 79% of the ads promoted light-duty trucks, including SUVs. Manufacturers are investing heavily in SUV advertising since they generate higher profit margins than traditional cars or electric vehicles.

Is an electric SUV a good option?

Even though they are electric, these SUVs require more raw materials in their manufacturing than traditional cars. Electric or not, an SUV has real impacts on the safety of other road users and on household debt levels.

What do you say to construction workers who require light-duty trucks and SUVs to haul heavy loads?

In Canada, 83% of light-duty trucks are not registered for commercial use. We encourage people to think about their real needs and choose their vehicles accordingly, opting for the smallest vehicle possible. For those requiring a large vehicle only a few times a year, they can always be rented when needed.

Why is Équiterre addressing the issue of vehicle size?

Mobility issues have been central to Équiterre's work since it was founded nearly 30 years ago. Various awareness campaigns have been conducted, along with research and analysis leading to advocacy for public policies in favour of lower-impact modes of transportation. Since the sale of SUVs and light-duty trucks has been the primary cause of the increase in GHG emissions in Quebec in recent years, and given their impact on the safety of other road users and on household debt levels, Équiterre feels that this is a public health issue that needs to be addressed.
« SUVs pose a risk to pedestrian safety and harm our living environments. This campaign speaks to Équiterre's strategy of considering SUVs' crosscutting impacts on our society and of partnering with multiple groups to tackle their proliferation head on. »
Campaign Team
Mobility Analyst and spokesperson

Communications Officer, Sustainable Mobility
The "Assess what your true needs are" campaign is coordinated by Équiterre with financial support from the Government of Canada.
This project was undertaken with the financial support of the Government of Canada.
Collaborating partners include Accès Transports Viables, the Automobile Protection Association, CAA-Quebec, the Canada Research Chair in the Mobility of People, the David Suzuki Foundation, the Fondation québécoise d'éducation en sécurité routière, HEC Montréal, Option Consommateurs and Piétons Québec.
Other initiatives that might interest you